---
---
---
---
---
---
---
---
---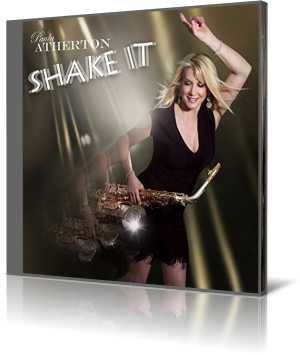 Saxophonist Paula Atherton is one of those go-getters who have made it to the top in the music business. She started her solo projects with Let Me Inside Your Love (2001), followed by Groove with Me (2009), Enjoy The Ride (2012), and Ear Candy (2015). Her newest album is Shake It (2018).
Mentioned in the liner notes are Dave Delhome, Darin Brown, Jorgen Kjaer, Bill Heller (keyboards), Schuyler Deale, Ron Monroe, Roy DeJesus (bass), Emedin Rivera (percussion), Lou Gimenez, Nick Colionne (guitar), Lionell Cordew, Tony Lewis (drums), Cindy Bradley (trumpet, trombone), and Melissa Raye (background vocals). Paula performs on her album flute, alto sax, Bari sax, and vocals.
Most of the songs are written by Paula Atherton, in parts with other musicians. Nick Colionne has written one song and the album has one cover.
The album lifts off with the famous Low Rider by American funk band War and producer Jerry Goldstein, which appeared on their album Why Can't We Be Friends?, released in 1975. The original has two heavyweights, the ultra-masculine voice and the dominant harmonica. Paula Atherton's new interpretation sounds like a modern and fresh extension to the old hit with alternative and hip instrumentation.
Long Tall Cool One captures the positive mood of the first piece and translates it into another theme. The intro of Into The Night has a flabbergasting similarity to Papa Was A Rolling Stone by the Temptations. A good approach to Paula's own ideas.
On Good Love Gone Bad Paula chooses another ingenious concept to start the song. She presents her saxophone performance in an unadulterated way without any other musical accompaniment. The Rippington's very own keyboardist Bill Heller serves with the extremely smoothly You Got It.
The funky All About The One portraits the popular double feature of Cindy Bradley on trumpet and Paula on sax. Both have often performed on each other's albums and events. That Paula is not only an excellent saxophone player but can also keep up vocally, she demonstrates with Say Goodbye.
Shake It comes up with a further outstanding harmonization of both horn players. My Song For You is written by Nick Colionne, who also performs the guitar. A harmonic and melodic blending of sax and guitar is the final structure. New Color is the second Bill Heller/Atherton co-composition opting on a feisty rhythm. The last song is an instrumental version of Say Goodbye.
If it was ever a good time to buy an album then it's now with the finest music on the market. Paula Atherton's Shake It is the ultimate starter to complete your smooth jazz collection.
Credit: Hans-Bernd Hulsmann
Feb. 6, 2015

Here she is once again dancing the funk right off everyone's dancing shoes: saxtress Paula Atherton. The lady has a new label (Maurice White's Kalimba Music), some slammin' contributions from one of the coolest guitarist around, Nick Colionne, lovely trumpeter Cindy Bradley, and the wonderfully talented, equally lovely keyboardist Gail Jhonson. Couple that with that same seductive, crystal clear vocal style that has brought her this far and an album of all-new, all original material – Ear Candy — and I think we can look for a chart-topper here.
Kicking it off with the funky "Pocket Full of Funk," this party wastes no time getting into full swing. Others follow like "Bee to A Flower" (truly one to get those feet excited and certainly one of my faves) and "Breakdown." Of course, this wouldn't be a Paula Atherton CD without some of that saucy, seductive, R&Bish slow jam groove found here on tracks like "Without You" and "Someone's Gonna Break My Heart" (the latter has a little pop flavor to it, as well). She also tosses in a little touch of Brazil and some great flute work on the rhythmic, up-tempo "Carnivale."
This release marks her fourth, and each just seems to take the listener a little bit farther into the fascinating sound-rich world of this now so well-defined saxtress. That her fortunes are blossoming so well (new label, notable luminaries signing on to contribute) only further proves her to be more than ready to share the upper rungs of that wonderful C-jazz ladder. It is also evident that her style and material are irresistibly charming. Ear Candy …mmm, mmm good. –Ronald Jackson
Smooth Jazz Therapy
When in 2009 I reviewed 'Groove With Me' from New York based singer, songwriter, and woodwind player Paula Atherton I commented that this sensational collection had made her a major player on the contemporary jazz scene. It followed her 2004 debut recording 'Let Me Inside Your Love' that made its mark on the national smooth jazz charts and provided the cut 'I Long For Your Love' for the compilation CD 'Ladies of Jazz' which also featured Natalie Cole, Candy Dulfer and Eliane Elias. Now, after way too long, she is back with the delicious 'Enjoy The Ride'. [full review]
The Smooth Jazz Ride
Since becoming familiar with this marvelously talented saxophonist/flautist/vocalist a few years ago, I have become completely enamored of her stylish, sleek, and energetic talents…[full review]
Epinions Review by mike.holmes
I had never heard of or listened to Paula Atherton before I picked up "Groove With Me" recently. The young lady, who has the looks of a movie star, is multi-talented: on this CD alone, she plays the flute, the alto and soprano saxes, sings and composes almost every song….[full review]
Apple iTunes Review by Jonathan Widran
In the late 2000s and early 2010s, Mindi Abair, Candy Dulfer, and Jessy J were the funky, sensuous female sax players getting all the A-list gigs and radio and retail attention…[full review]
The Smooth Jazz Ride
Sashaying forward with all of the sexiness and melodic charm of one who's been on theClick to buy or listen national scene for decades…[full review]
Cafe Jazz Radio
With guest appearances from the likes of Greg Adams and Chieli Minucci among others, Ms Atherton is understandably excited about her new album and that's an enthusiasm that we readily share…[full review]
Urban Music Scene
"Groove With Me" features a diverse collection of musical talents including, Chieli Minucci (Special EFX), Greg Adams (Tower of Power), Onaje Allan Gumbs, and Bill Heller (Rippingtons) among others. This is not your typical smooth jazz collection; it is spiced with plenty of funk, classic R&B, and Latin flavors…[full review]
Smooth Jazz Therapy
As if from nowhere, and courtesy of her brand new project 'Groove With Me', singer, songwriter and woodwind player Paula Atherton has dramatically emerged as a major player on the contemporary jazz scene…[full review]
Smooth Jazz Vibes
This sensational collection features eleven of Atherton's original compositions plus one well-chosen cover and, with the perfect blend of instrumental and vocal cuts, oozes quality throughout…[full review]
Jazz Monthly Interview with Joe Caroselli
We here at JazzMonthly.com are truly honored to be chatting with a multi-talented lady who is taking time out of her very busy schedule to spend some time with us today.
Ronald Jackson's Smooth Jazz Ride Music Reviews
October 27 at 4:35 PM ·
–
?
One of the loveliest, finest saxtresses/flutists/vocalists in all of c-jazz, Paula Atherton, is back with her stylish new release ? This project is as full of charm and soul as one could ever hope for in this vibrant, colorful genre that refuses to die — despite critics' predictions years ago.
As one who should have long ago been sharing the stage and spotlight with the best of the best in this business and certainly no unknown, I still feel this gem of a woman hasn't gotten the absolute and full attention she deserves. Armed with a beautiful personality and always full of energy, electricity, and passion — both live and in the studio, one is assured of getting their money's worth and then some with her.
This album contains so much character and vibrancy that it's hard to single out one showstopping track here. Beginning with a hot Latin-laced number called "One Night in Madrid," followed by a sizzling cover of Patrice Rushen's "Forget Me Nots," a slick, sexy, and melodic title track featuring Greg Manning tickling the ivories, the mid-tempo soulful and funky "Don't Let Me Wait" featuring her sparkling and strong vocals, and many more alluring tracks that you'll find simply impossible to resist, she again delivers a top-tier production.
Joining the saxtress here are the previously mentioned keyboardist Greg Manning, guitarist and hubby Lou Giminez, Rippingtons keyboardist Bill Heller, and the classy, sexy trumpeter Cindy Bradley, among others who all contribute masterful skills on this wonder-filled adventure in c-jazz.
Paula has been one of the true troopers in the world of c-jazz, never relinquishing the music for more lucrative genres. She is obviously wedded to this culture, and her fans are ecstatic that she has remained so devoted. If you've not experienced her magic, you need not deny yourself one more minute. Experience her, and yes, you feel it.